LEGO Friends Pop Star Dressing Room, 41104
---
Product Details
color: Multicolor
gender: Girls
model: 41104
Includes Livi the pop star and Emma mini-doll figures plus Cookie the Dalmatian
Features a foldout Dressing Room with opening door, vanity desk with mirror, swivel chair, clothing rail with hangers, tilting full-length mirror, sofa, opening mini-fridge element, functioning mailbox and a doggy bed
Accessory elements include electric blue and pink wigs, hair accessories, 3 fabric skirts, beauty product containers, flowers, fan mail, fruit, bottle, magazine and a bone for Cookie
Fold open the Dressing Room to display the different areas
Choose your favorite skirt and take it off the hanger
Try different skirts and hair colors on Livi to make the perfect show outfit
Fold out the Dressing Room to create a pampering area for Cookie the Dalmatian pup
Pick up the fan letter in the mailbox and read it on the sofa with a drink
Combine with the 41105 Pop Star Stage Show to create the whole concert experience
Pop Star Dressing Room (unfolded) measures over 3″ high, 14″ (38cm) wide and 3″ deep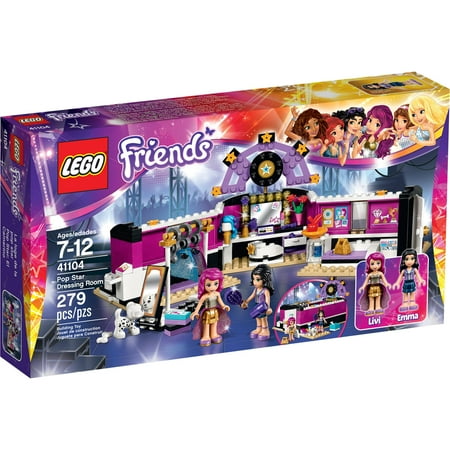 Get glammed up in the foldout Pop Star Dressing Room! Livi the pop star has a big show tonight and Emma is her stylist. Help Emma choose an amazing outfit for Livi to wear on stage, then sit Livi down at the vanity desk to have her hair done. Which style and accessories will you choose tonight? Then it's time to relax before the performance. Fold the dressing room back to create a special doggy pampering area for Livi's Dalmatian, Cookie. Put him in his doggy bed with a bone while Livi sits on the sofa to read some fan mail. The show is about to start, so put the finishing touches to Livi's makeover, take a glamorous fabric skirt from the hangers and dress Livi with it. Now, she really looks like a superstar! Includes Livi the pop star and Emma mini-doll figures, plus Cookie the Dalmatian.
---
We accept all major Credit Cards, Amazon Payments, and Bitcoin.
We also offer an Additional 2% Discount for Direct Bank Debit Payments via Kash.com
Most items are shipped within one business day via UPS within the Continental United States.
Canada shipment can take up to 10 days
Alaska, Hawaii, and Puerto Rico shipment can take up to 10 days, and some items may not be permitted to ship to these locations.
If any shipment is not permitted to your area, full refund will be issued within two business days.
All returns accepted within 30 days after receiving the item.
Refund given as money back (no exchanges)
Return Shipping to be paid by buyer, unless item defective or damaged.
15% Restocking fee applies unless return due to defective or damaged product.
Perishable or Hazardous Goods are not returnable. Returns may require compliance with Manufacturer policies.